Canpar Express is one of Canada's leading small parcel delivery companies with over sixty terminals coast to coast.
Since 1976
Founded in 1976, our expertise as a parcel delivery specialist comes down to our people. The 1,700 members of the Canpar Express team are dedicated to building solid working relationships with our customers as part of our overriding commitment to service.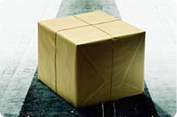 Everything Canpar Express does—product development, technological upgrades, customer service—is shaped and tailored to transporting our customers' parcels efficiently and cost-effectively. 20,000 customers choose Canpar Express for the confidence and convenience of regular pick-ups by a Canpar Express driver who knows the business' shipping needs
Canpar Express provides service to virtually all points accessible by public road to all ten provinces of Canada and the continental United States.
Canpar Express operates an efficient "hub and spoke" pick-up and delivery system. The Canpar Express delivery network and infrastructure has grown and evolved into a vast, modern network of terminals and line haul systems.
The Canpar Express Advantage
Canpar Express was purchased by TFI International in 2002 and is a key member of the parcel delivery segment. TFI International creates value for unit holders by managing and investing in a growing network of independent operating companies. Through these subsidiaries, TFI International is the leader in Canada's transportation and logistics industry. TFI International provides a comprehensive and unique combination of capabilities, resources and geographical coverage in both domestic and transborder markets. Its companies operate in five well-defined business segments: Less than Truckload, Package and Courier, Specialized Services (which includes transportation services, fleet management and personnel services), Specialized Truckload and Truckload